Vivekananda Vidyavardhaka Sangha Puttur ®(VVS), formerly known as The Puttur Education Society founded in 1915 has been in the forefront in the field of education in the southern part of the coastal district of Dakshina Kannada for the past one hundred three years. Great visionaries like Molahalli Shiva Rao, Baindoor Rama Rao, Dharmastala Manjayya Hegde, RaoBahadur, Raghunatha Rao and many others who were instrumental in starting the Sangha succeeded in establishing a Secondary School in Puttur in 1916. The institution has now become Government Pre-University College, Puttur.
The starting of Vivekananda College of Arts, Science and Commerce in 1965 was a milestone in the history of the organisation. From there onwards there was no looking back and the process of establishing educational institutions were almost continuous. Right now, there are 58 institutions in the taluks of Puttur, Sullia, Bantwal and Belthangadi. Most of these institutions are named after the great saint of India, Swami Vivekananda. The mission of Vivekananda Vidyavardhaka Sangha is to provide education to the rural youth so as to make them responsible citizens of this great country who possess deep sense of pride in our cultural heritage and ethical values. The institutions set up by the Sangha covers all levels of education starting from Kinder Garten to professional streams. The activities of the Vivekananda Vidyavardhaka Sangha are now guided by Sri Rama Bhat former M.L.A. who was the founder Correspondent of the first institution started by VVS Puttur® in 1964. Dr. Prabhakara Bhat Kalladka is the President of the organisation and the managing committees of the various institutions consisting of scores of selfless social workers committed to the cause of education and development of the region.
The institutions of the Vidyavardhaka Sangha in Puttur town are located in two vast campuses, one in Neharu Nagara and the other is at Viveka Nagar, Thenkila. Both the campuses are situated outside the town far away from the urban activity and congenial to persue learning, a privilege rarely found.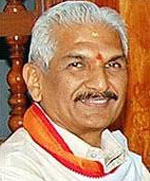 Dr. Kalladka Prabhakara Bhat being the President of the institution is struggling hard day in and day out in elevating all the 63 institutions to the global height and transforming the student's community to go out of the institution with good value system imbibed and acceptable by the society as good human beings.