On 13 April 2019 a workshop was conducted for Law Students on the Topic "Alternative Dispute Resolution Practice" The workshop was held from 10.00 A.M. to 4.00 P.M. The inauguration of workshop was done by Sri Krishna Kumar Shetty, Joint Secretary, Vivekananda Vidyavardhaka Sangha (R) presided over by Sri Ganesh Joshy, President of Vivekananda Law College Governing Council, Sri Vijayanarayana K.M., Correspondent Vivekananda Law College Governing Council, Dr. B. K. Ravindra, Director of Legal Studies and Sri Rajendra Prasad A, Principal In-charge.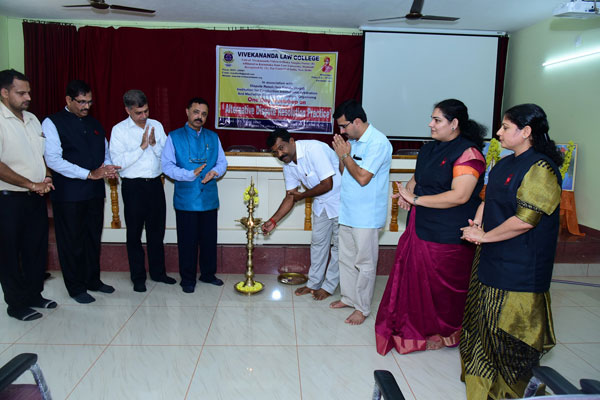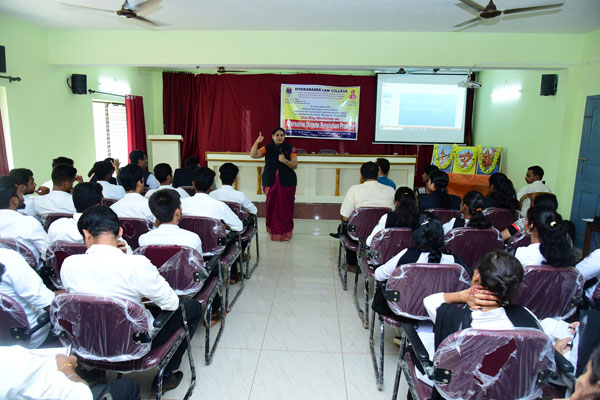 The Resource Person for the workshop were Smt. Jayashree Rattihalli, Mediator and Arbitrator who introduced the area on Concept of Conflict Management in ADR, Mrs. Ashwini Hegde, Mediator and Senior Manager of SEZ, Mangalore gave a talk on ADR visavis other modes of conflicts, Sri Suresh Kumar, Rtd. Senior Manager of corporation Bank and Mediator, explained the techniques adopted in mediation and Mrs. Vinay Kashyap, Mediator and Compliance Manager, elaborated on the Role of Mediator.
In all 120 Law Students Participated in this workshop and very shortly it was resolved to conduct a workshop for Practicing Advocates in the month of May.